Big Air Bounce 10ft Trampoline Set
60 Springs
1.2mm thick steel frame
15mm thick foam padding
External style safety net
100kg max user weight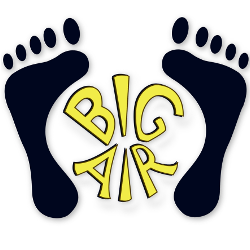 Introducing the Big Air Bounce
New for 2015, the Big Air Bounce series is our 3rd generation of Big Air Trampolines. Working directly with the manufacturer, we have been able to make positive refinements on these trampolines including better and stronger trampoline joints, a more efficient spring system and heavy duty enclosures.
Frame
A 1.2mm frame designed for lighter jumpers. All Big Air trampolines are constructed with hot dipped galvanised steel top frame. The hot dip galvanisation process ensures that the trampoline frame sections are galvanised inside and out (unlike most other galvanised frames that are only galvanised on the exterior of the frame). This will ensure the trampoline remains robust for many years and is suitably strong for even the heaviest of users. An extra strong set of box joints at the top of each leg provides huge strength at what is traditionally the weak point of a trampoline.
Springs
60 Galvanised and Zinc plated Standard Big Air 141mm springs (210mm fully extended). Spring quality and quantity should be set up dependant on the most common user weight. Generally more/stronger springs are required for heavier users and too many springs can effect performance for lighter users. This spring set up will produce the best performance for users 10 stone and under. The trampoline will still perform well although not at an optimum for heavier adults. If adults are the primary users we would recommend the Super Bounce or Extreme Bounce ranges.
Bounce Mat
All Big Air Trampoline jump mats are made in the USA and manufactured from Grade A Permatron. Permatron is a unique material that can be left outside all year round and gives an excellent cushioned bounce. We have experimented with cheaper Permatron mats manufactured from outside of the USA and found the quality to be considerably poorer. The V rings used to attach the jump mat to the frame are secured with an eight row stitch for extreme durability.
Safety Padding
Big Air trampolines use high quality highly flexible plastic covers to ensure the padding will remain intact after years of outdoor use. All Big Air Trampoline safety padding uses a special shock absorbing closed cell polyethylene to provide protection from the trampoline frame and springs. There is an extra thick layer of padding around the edge to provide added protection from the hard steel frame of the trampoline. These deluxe trampoline pads are also UV treated to protect against harmful rays from the sun.
Safety Enclosure
This Big Air Trampoline comes with a free standing safety net that is screwed into place on the frame of the trampoline. We have found that although more expensive to manufacture this design of safety net is far sturdier than other safety nets which attach to the top of the trampoline legs. This safety net frame is free standing and effectively doubles the number of legs that the trampoline has in contact with the ground, thus significantly increasing the structural integrity of both the trampoline and the safety enclosure. The mesh of the safety net is made from super strong and flexible Terylene thread and the intelligent design uses a free standing net to minimalise the risk of accidents involving the upright posts.

More Information
Diameter
10ft (3.05m)
Frame Height
80cm
Springs
60 Standard Big Air Springs
Frame
1.2mm hot-dipped galvanised steel
Max User Weight
100kg
Safety Enclosure
Full enclosure, with independent legs for extra stability
Dimensions
10ft Diameter, 80cm Height.
Construction
Simple construction is required using the instruction manual for guidance. All tools and fixings required are included with the trampoline package.
Free Next Working Day Delivery
This item will be shipped on a next (working) day delivery service.
To qualify for same day despatch & next working day delivery, orders must be placed before 3pm.
Orders placed before 3pm, Monday to Friday, will be despatched the same day for delivery the following working day. E.g. an order placed before noon on a Monday would be despatched on Monday for delivery on Tuesday. An order placed before noon on a Friday would be despatched on Friday for delivery on Monday.
Orders placed after 3pm, Monday to Friday will be despatched the following working day for delivery the next available working day. E.g. an order placed after 3pm on Monday would be despatched on Tuesday for delivery on Wednesday. An order placed after noon on Friday (up to 3pm on Monday) would be despatched on Monday for delivery on Tuesday.
If your order is time critical or required by a certain date please get in touch at the time of order and we will endeavour to accommodate your needs where possible.
Please see the Delivery and Returns section of our website for a full explanation of the delivery timescales
Standard 12 Month Warranty
This product comes with a 12 month warranty supplied directly from UK Sport Imports Ltd
In the unlikely event of a problem arising, please contact us immediately and we will be happy to help.
Please be aware that unless stated otherwise free gifts and batteries are exempt from our Standard 12 month warranty.
Please see Terms and Conditions for more information.